Our Department
The City of Austell Fire Department, Cobb County, proudly protect 6000 people living in an area of 10 square miles. We operate out of one station that protects residential and several businesses thought-out the area.
The Department is a public department whose full time members are on a paid status. And we're proud to say "We have an ISO rating of 3." We run 5 member crew 24/7. Chief and Assistant Chief 9 til 5.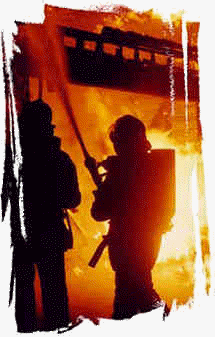 The Firefighters provide Emergency Medical Services (EMS), fire suppression, search and rescue, extrication, hazardous material and natural disaster response. Averaging approximately 1000 calls a year estimating 80% medical.
Our Department consist of 2 Engines and 1 ALS Rescue truck.
The Department provides administrative and fire preventions services including review of construction plans, field fire/safety inspections, enforcement of applicable codes, department training programs, public education and information, investigative services regarding fire origin and cause as well as criminal investigation and prosecution in cases of suspected arson.
Our Assistant Chief wears two hats serving as the City's Code Enforcement Officer.
We belong to these Associations:
NFPA ~~~ GEMA ~~~ FEMA